KKP 100 F Pellet Press is our entry level pellet making machine
KKP 100 F Pellet Press – KK 200 Pellet Press – KK 300 Pellet Press
KK100 F Pellet Press:
The KK100 F Pellet press is our entry-level pellet-creating machine with a max capacity of 150kg per hour. The press is ideal for use with Fermented Substrate, Cereal, Straw, Rapeseed, and Sunflower Seed Husks Spelt Husks etc.
The press is ideal for use with energy grass such as Miscanthus and Switch grass.
Marketing opportunities for pellets created by the KK100 pellet press include fertiliser pellets, cat litter along with heating pellets which at this time see's 2kg of pellets + to 1 litre of heating oil.
Pellets created by the KK100 range from 5 to 8mm with the press of a compact size 80 x 64 x 78cm.
For further details of the KK100 F Pellet Press please download our brochure or email any questions you may have.
Pellets For Biofuels:
The KK100 Pellet Pres is suitable for creating pellets for use in Biofuels including biomass boilers.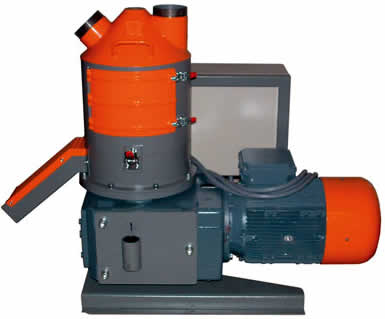 KKP 200 F Pellet press:
Capacity: 200kg/h
Pelllet Size Standard 6m possible to make up to 20mm
Voltage: 230v/400v/460 – 480v 3 phase
KKP 300 F Pellet press:
Capacity: 300kg/h
Pelllet Size Standard 6m possible to make up to 20mm
Voltage: 230v/400v/460 – 480 volts 3 phase